Hunger Relief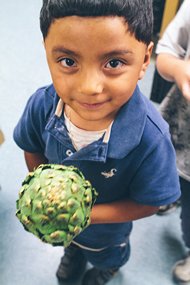 The Dignified Approach to Food
Instead of receiving a pre-packed or standard bag of groceries, families can shop for free at the Metro CareRing Market. A self-select shopping model gives participants more control over their food choices, exposes them to new foods, and reduces waste. Volunteer Personal Shoppers help participants choose their food, respectfully presenting healthy food options, and guiding them toward preparing nutritionally balanced meals.
The Most Nutritious Food
62% of the nutritious food distributed by Metro CareRing is fresh – sourced from local grocery stores, farmers and community gardens. Additionally, Metro CareRing ensures that food distributed is nutritionally balanced to meet USDA guidelines with the help of dieticians from the Department of Nutrition and Dietetics at Metropolitan State University of Denver.
The Highest Quality Food
Ninety-six (96) billion tons of food are wasted each year in the United States. Metro CareRing's fresh grocery rescue program partners with stores like Whole Foods, Safeway, and King Soopers that employ the highest standards for food quality in the industry. These guidelines are upheld by Metro CareRing in handling our perishable groceries, ensuring they are the freshest they can be - always .
The Greatest Quantity of Food
This year, Metro CareRing will distribute between 1.5–2 million pounds of food to Denver's hungry. Each family that visits us can expect to receive at least a 4-day supply of food for each household member.
The Safest Food
Metro CareRing is ServSafe certified. Because we serve Denver's most vulnerable populations – pregnant mothers, children, seniors and the immune-compromised – proper food handling is a priority. All donated food is received, stored, and distributed in accordance with The National Restaurant Association's guidelines.